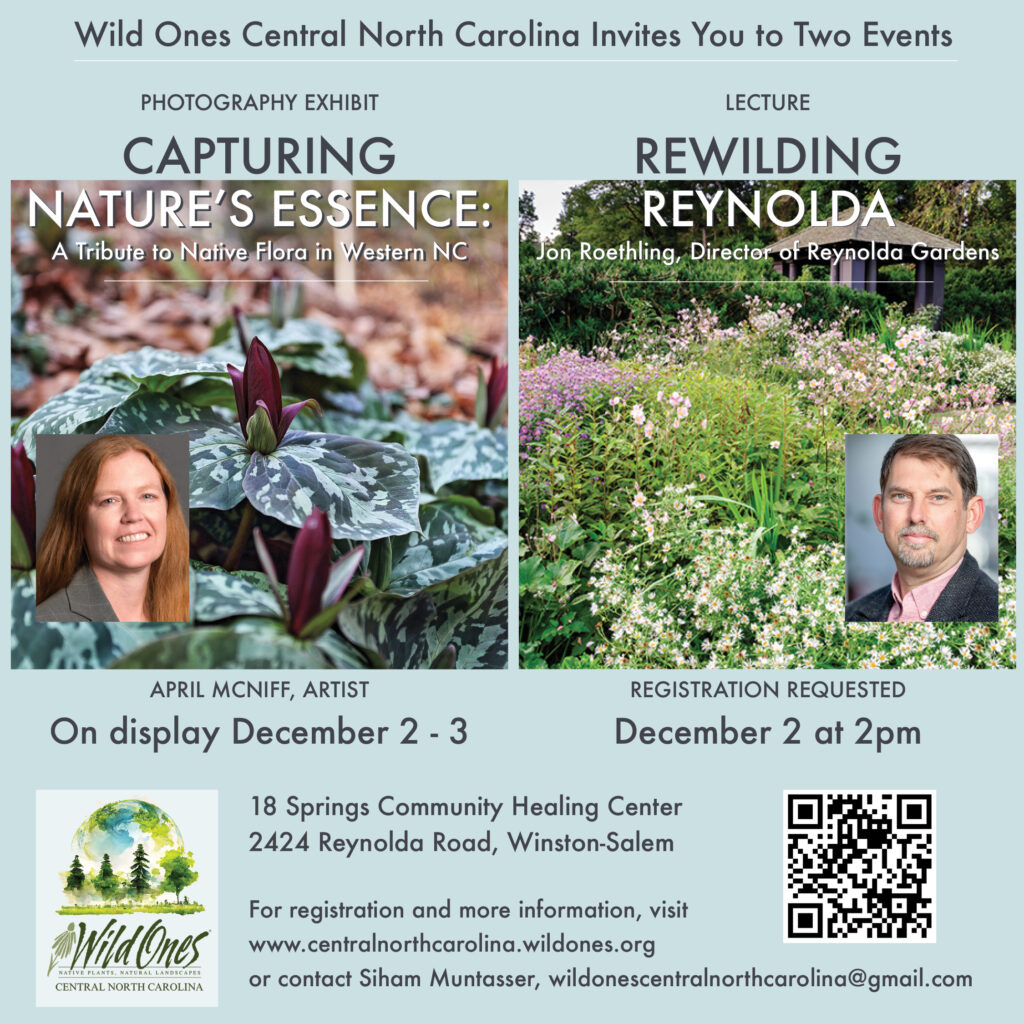 Wild Ones Central North Carolina Presents
Rewilding Reynolda
Jon Roethling, Director of Reynolda Gardens, Winston-Salem, NC
and
Capturing Nature's Essence:
A Tribute to Native Flora in Western North Carolina
A Photography Exhibit Featuring the work of April McNiff
FOR IMMEDIATE RELEASE Contact: SihamMuntasser
Email: wildonescentralnorthcarolina@gmail.com
Winston-Salem, N.C. (November 17, 2023) — Wild Ones Central North Carolina is pleased to bring two enchanting events to Winston-Salem.
On December 2ndand 3rd, 2023, at 18 Springs Community Healing Center, 2424 Reynolda Road in Winston-Salem, artist April McNiff will showcase a photography exhibit titled "Capturing Nature's Essence: A Tribute to Native Flora in Western NC." The exhibit will be open from 10:00am to 6:00pm on both days.
On December 2nd at 2pm, also at 18 Springs Community Healing Center, Jon Roethling, Director of Reynolda Gardens in Winston-Salem, will present "Rewilding Reynolda" and discuss his plans to expand the native plant section and meadows of Reynolda Gardens.
"Capturing Nature's Essence: A Tribute to Native Flora in Western NC" is a photography exhibit that showcases a yearlong journey through the stunning mountains of Western North Carolina. This project is an endeavor to document the exquisite beauty of native wildflowers, while highlighting the region's significant biodiversity. The goal of this exhibition is to not only celebrate the mesmerizing charm of these delicate species, but also to shed light on the fragile ecosystems they inhabit. Using both color and black and white digital photographs of select subjects, it explores our natural world and focuses on potential disruptions and endangerment, caused by humans, whether intentional or not.
This exhibit serves as a visual testament to the unique and vulnerable flora of Western NC. It urges our communities to recognize the significance of preserving these pristine habitats by emphasizing the critical importance of adopting "Leave No Trace" principles in our interactions with nature. Via interpretive text throughout the exhibit, the goal is to inspire responsible stewardship, ensuring that future generations can continue to admire the natural wonders of our region. This year-long project is supported by the North Carolina Arts Council, a division of the Department of Natural and Cultural Resources.
"We are thrilled to share these two important events with the community," said Wild Ones CNC President Dr. Siham Muntasser. "April McNiff's photography exhibit is the perfect compendium to Jon Roethling's lecture. The highly-visual impact of the photographic exhibit opens our minds to the possibilities at Reynolda Gardens and other locations. Both events highlight the important role we can all play as individuals in protecting, preserving, and restoring our biodiversity. We hope you join us to be enchanted and inspired!"
The events are free and open to the public. Registration is required for Jon Roethling's lecture to secure seating: https://shorturl.at/myA02.
For more information, please contact Siham Muntasser at [email protected].
The Wild Ones Central North Carolina chapter promotes environmentally sound landscaping practices to preserve biodiversity and ecosystem resilience through the preservation, restoration, and establishment of native plant communities.
###
Wild Ones Central North Carolina
"Healing the Earth one landscape at a time"
https://centralnorthcarolina.wildones.org/
April McNiff
www.aprilmcniffphotography.com
MARK YOUR CALENDAR